MY BROTHER'S HUSBAND
GENGOROH TAGAME
(trans. Anne Ishii)
Pantheon Books
$24.95 hardcover, available now
Rating: 3.5* of five
The Publisher Says
: Yaichi is a work-at-home suburban dad in contemporary Tokyo; formerly married to Natsuki, father to their young daughter, Kana. Their lives suddenly change with the arrival at their doorstep of a hulking, affable Canadian named Mike Flanagan, who declares himself the widower of Yaichi's estranged gay twin, Ryoji. Mike is on a quest to explore Ryoji's past, and the family reluctantly but dutifully takes him in. What follows is an unprecedented and heartbreaking look at the state of a largely still-closeted Japanese gay culture: how it's been affected by the West, and how the next generation can change the preconceptions about it and prejudices against it.
My Review
: In my ongoing quest to retard the ossification of my brain, I made it my business to choose a graphic novel to read. I detest graphic novels. It's hard for me to follow the story, what there is of it, and I am routinely unimpressed by the artwork. I keep trying because there are occasions where the graphic format is the only one that can tell a particular story, and once in a while it's a pleasant discovery to learn that not everything in a given format is as tooth-grindingly annoying as I expect it to be.
The story is one I relate to. I've been Mike Flanagan, the Canadian bear whose dead husband's family he's meeting by his own insistence, in relationships. (Y'all shoulda seen the 24-year-old's father's face when he caught us kissing. And incidentally, Dad's a decade younger than I am, hot, and I would totally trade up.) (Just kidding about that last part, honey!) (It says here.) It's weird to see that experience told from this point of view, that is, the family that's being invaded by strangeness.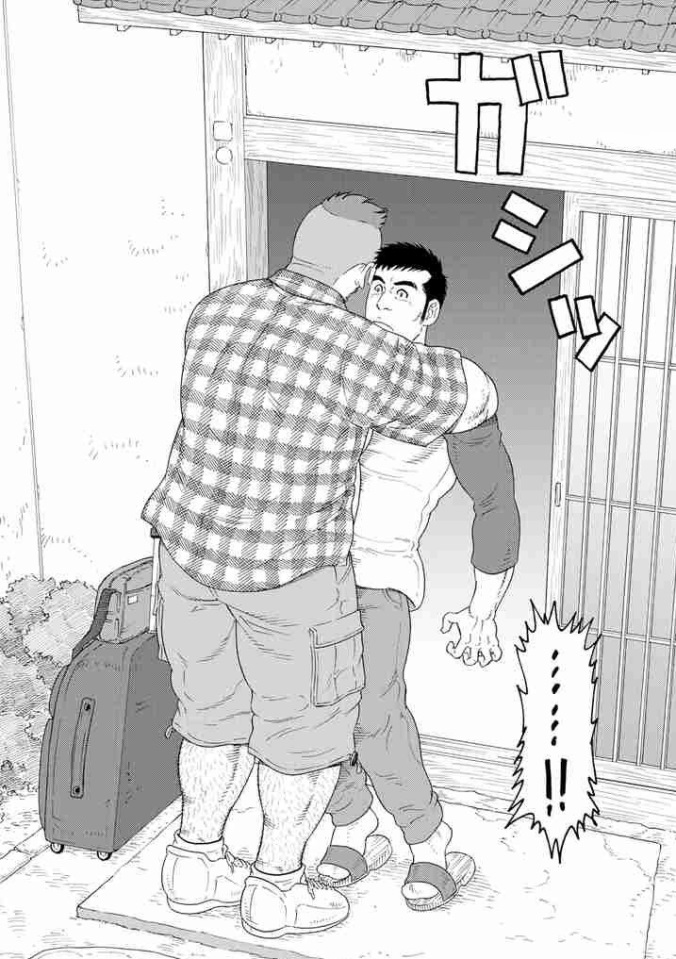 Oh my...poor Mike...hugging a straight man in a foreign country...Yaichi shouts at him to let go, of course, and everyone's thoroughly flustered and freaked. Yeah, this'll go well.
But it does, after the two men are joined by Yaichi's daughter Kana. She just wants to know why she never knew she had an uncle, why men can't get married in Japan, how Mike got so hairy...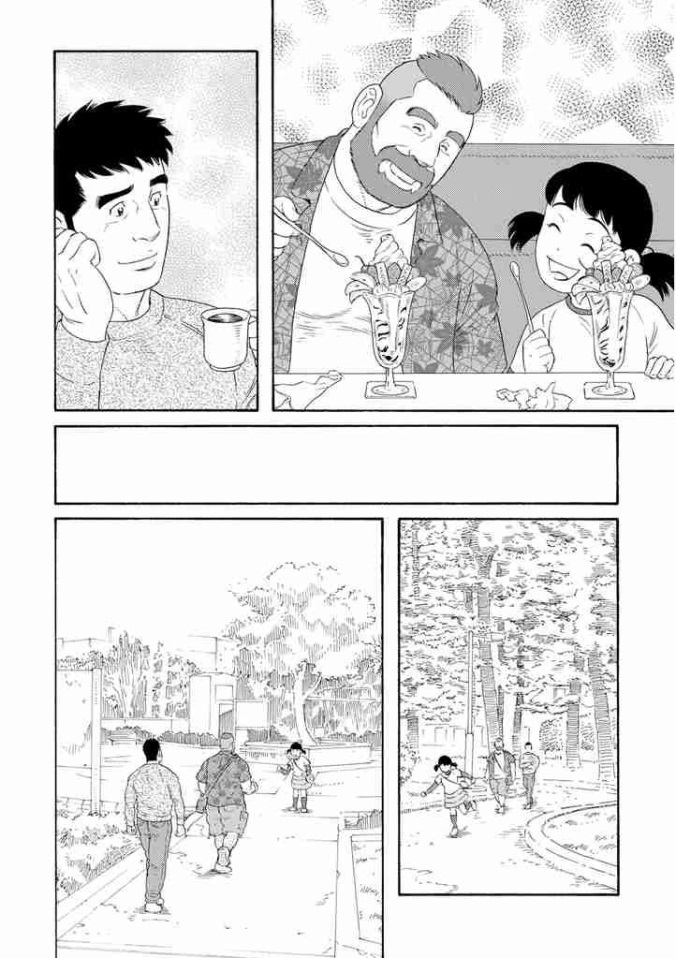 ...everything a kid wants to know, in short, about someone new in her life. Who was the wife, Kana wonders, and when Mike explains that there was no wife but there were two husbands Yaichi goes into a reverie about how he always wondered the same thing only about their sex life...and then Yaichi snaps out of it and reprimands himself for wondering such a crude thing when he wouldn't question a mixed marriage's sex life.
Yaichi's "acceptance" of his identical twin's sexual nature was, in fact, simply refusal to think about it or process it.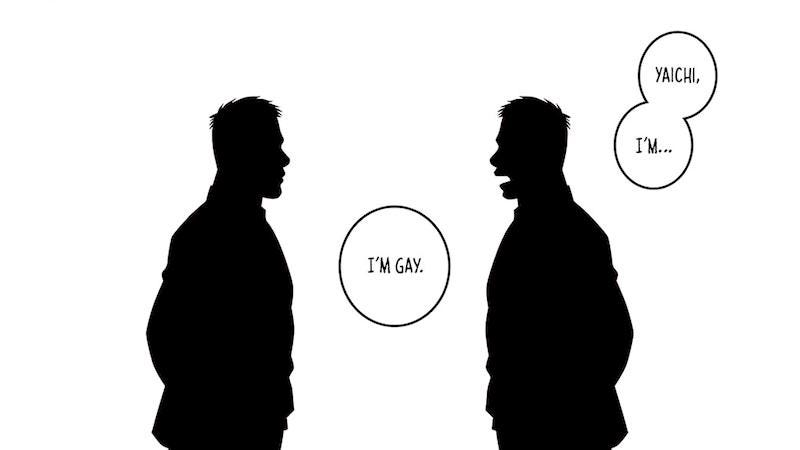 Now here's this big gaijin staying in his home, charming his daughter, making his ex-wife laugh and smile when she pays a visit, and generally going out of his way to be sweet and agreeable. Yaichi the orphan, now siblingless, is getting to grips with the cost of his absence of acceptance. By the end of this fat little volume, he's on a major journey into what his brother's husband has done to his future life.
Reading the manga way is weird for Westerners, or at any rate old ones like me. Back to front, right to left...and add in the graphic parts! Well, it was a read outside my comfort zone. The more alert among you will have noticed a favorable star rating atop the review's text. I liked the story of a man's journey from unquestioning homophobia to questioning discomfort through to earnest effort to understand and integrate The Other into his world. I wasn't comfortable with the format and I'm not a bit convinced that the story couldn't have been told another way, but the story itself is a good and timely one for 45's America as well as for Japan at any time.
I most certainly will not buy the book for $25 but checked out of the library it's a well-spent afternoon. I'd say graphically oriented consumers would do well to visit Yaichi, Kana, and Uncle Mike. They are good company and the world they find themselves working to understand and create is one I'd say is very, very important for us all to visit. Who knows, y'all might wanna set a spell.