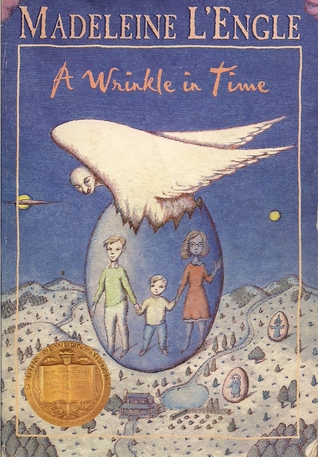 (this cover is for an out-of-print edition, but is still my favorite)
A WRINKLE IN TIME
MADELEINE L'ENGLE
(The Time Quintet #1)
Farrar, Straus & Giroux Books for Young Readers
$24.99 hardcover, available now
Rating: 4* of five
The Publisher Says
: It was a dark and stormy night; Meg Murry, her small brother Charles Wallace, and her mother had come down to the kitchen for a midnight snack when they were upset by the arrival of a most disturbing stranger.
"Wild nights are my glory," the unearthly stranger told them. "I just got caught in a downdraft and blown off course. Let me be on my way. Speaking of way, by the way, there is such a thing as a tesseract."
Meg's father had been experimenting with this fifth dimension of time travel when he mysteriously disappeared. Now the time has come for Meg, her friend Calvin, and Charles Wallace to rescue him. But can they outwit the forces of evil they will encounter on their heart-stopping journey through space?
This text is from the edition I encourage you to buy:
Fifty years ago, Madeleine L'Engle introduced the world to A Wrinkle in Time and the wonderful and unforgettable characters Meg and Charles Wallace Murry, and their friend Calvin O'Keefe. When the children learn that Mr. Murry has been captured by the Dark Thing, they time travel to Camazotz, where they must face the leader IT in the ultimate battle between good and evil—a journey that threatens their lives and our universe. A Newbery Award winner, A Wrinkle in Time is an iconic novel that continues to inspire millions of fans around the world. This special edition has been redesigned and includes an introduction by Katherine Paterson, an afterword by Madeleine L'Engle's granddaughter Charlotte Jones Voiklis that includes photographs and memorabilia, the author's Newbery Medal acceptance speech, and other bonus materials.
THE BIG NEWS: A 2017 RELEASE NEW FILM ADAPTATION!
Okay, it's an *April 2018* release but principle photography is over at least.
My Review
: Meg Murry's daddy left home unexpectedly and without saying goodbye. The adored parent left behind an adolescent daughter, three sons, and a beautiful and smart wife. Meg cannot make herself get used to his absence and can't even pretend that she's not hurt by the town's opinion that he ran off leaving her mother. This, plus braces, wildly curly hair, an intelligence far greater than her contemporaries', and glasses, isolate the girl with her even weirder little brother Charles Wallace against their normal brothers and the rest of the world.
In time-honored tradition, these misfits are actually being prepared to fight the ultimate battle of Good Versus Evil, no pressure on the children no no no, and save their Daddy, not like it's gettin' piled even higher oh no! One fine day, Meg and Charles Wallace are called to their destiny by Mrs Which, Mrs Who, and Mrs Whatsit, the eccentric old ladies who prove to be avatars of interdimensional good beings with the agenda of making the Universe safe for goodness and happiness again.
The children are joined by fellow misfit Calvin, a popular boy athlete in their town whose hidden depths have tormented him all his life, in the quest to make the evil entity, a disembodied brain called "IT," that slowly takes over planets and compels all life thereon to submit to being in a group mind, erasing individuality and leaching away happiness.
This is a YA novel, so all turns out well, with Mr. Murry coming home and the children being brought home all safe and sound. But how they get home is very interesting: They travel via tesseract, a geometric figure that extends into a fifth dimension beyond spacetime. Mr. and Mrs. Murry have been researching this in their roles as scientists, and Mr. Murry has used the tesseract to get to the planet from which he's rescued. The Mrs Who/Which/Whatsit interdimensional beings use the tesseract to "tesser" or wrinkle the fabric of spacetime to get the children there as well.
Fascinating stuff for a Christian housewife to be writing about in 1960-1961! And make no mistake, the book is a very Christianity-infested Message about the perils of brains without hearts leading to Communistic group-think. Mrs. Murry, a capable scientist, stays home with the kiddos and makes dinner over Bunsen burners so she can keep working while she stays home to be a wife and mom. Ew.
And Meg, poor lamb, worries that she's not pretty enough because she needs braces and glasses and she's not all gorgeous like her mom is. Then Calvin, a popular boy and an athlete, shows hidden depths and falls for little Meg. So bells ring, doves coo, and hands are held, so all is well. Ew.
But it ain't
Twilight
, so I'm good with it. In fact, because I first read it before I was ten, I'm good with all of it. The stiff, unrealistic dialogue, the socially regressive and reprehensible messages, the religiosity...all get a benign half-smile and an indulgent wink.
Because sometimes you just need to know that
someone
out there believes that good CAN triumph over evil.