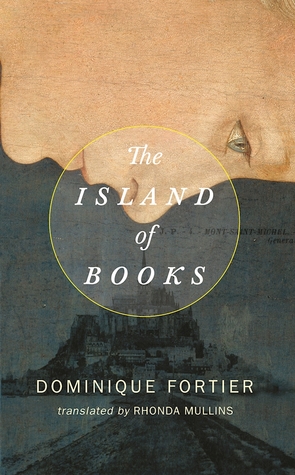 THE ISLAND OF BOOKS
DOMINIQUE FORTIER
(translated by Rhonda Mullins)
Coach House Books
$15.95 trade paper, available now
Rating: 4* of five
The Publisher Says
: The library at Mont Saint=Michel was once known as the city of books. It is there, within the grey walls of its monastery, that a portrait painter grieving the sudden death of the woman he loved finds refuge. And it's there, between the sea and the sky, five centuries later, that a novelist tries to find her words again. They meet in the pages of a notebook left out in the rain.
Like the manuscripts out bereaved—and illiterate—painter is asked to copy over earlier texts, The Island of Books reveals traces of a time before Gutenberg beneath its present. With all the passion and intellect we've come to expect from her, Dominique Fortier offers us a moving homage to books and to those who write them.
***I RECEIVED THIS REVIEW COPY FROM COACH HOUSE PRESS AT MY REQUEST. THANK YOU!***
My Review
: Exquisitely rendered grief. Author Fortier is outstanding at making the experience of life-altering grief full and real:
Seen from above, the monks all looked like with their brown cowls, the pale halos of their tonsures on the tops of their heads. They were small and interchangeable.