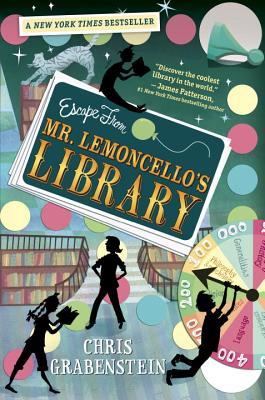 ESCAPE FROM MR. LEMONCELLO'S LIBRARY
CHRIS GRABENSTEIN
(Mr. Lemoncello's Library #1)
Random House Books for Young Readers
$16.99 hardcover, available now
Rating: 3.75* of five
The Publisher Says
: Kyle Keeley is the class clown, popular with most kids, (if not the teachers), and an ardent fan of all games: board games, word games, and particularly video games. His hero, Luigi Lemoncello, the most notorious and creative gamemaker in the world, just so happens to be the genius behind the building of the new town library.
Lucky Kyle wins a coveted spot to be one of the first 12 kids in the library for an overnight of fun, food, and lots and lots of games. But when morning comes, the doors remain locked. Kyle and the other winners must solve every clue and every secret puzzle to find the hidden escape route. And the stakes are very high.
In this cross between
Charlie and the Chocolate Factory
and
A Night in the Museum
, Agatha Award-winner Chris Grabenstein uses rib-tickling humor to create the perfect tale for his quirky characters. Old fans and new readers will become enthralled with the crafty twists and turns of this ultimate library experience.
My Review
: Want to know something? I read this book *after* its sequel! Want to know something else? I hate reading Young Readers books! And guess what? No, you guess, c'mon! C'mon, please? Oh okay: I did NOT hate reading this book OR its sequel!
I know, right?
Chris Grabenstein writes for middle-graders like a middle-grader would, and I mean that as a compliment. He gets right into the mindset of a young person in a way that I don't see a lot of adult writers doing. He anticipates the questions a younger reader is most likely going to ask and, before they can even be posed consciously, leads the reader to the answer while making it seem they've gotten ahead of the author. That's quality writing for any age, let alone the finicky and detail-oriented 9-to-12 market.